Every year at tax time, you promise yourself you'll do it. When you can't find your child's immunization record for the school application, you promise yourself you'll do it. When you misplace the power bill—again—you declare that you absolutely are going to get your paper life in order! Well friend, the future is now and we're about to help you organize with some home office ideas so that important documents are easy to locate and daily tasks are simpler.
Whether you operate as COO of Your Family, Inc. from a small desk in the kitchen, or from a full-sized home office, these tips and strategies can help you corral the school papers, financial and business documents, and eliminate aggravations like missed deadlines.
Do you have other areas to declutter? Don't miss our Home Organization 101 Series!
1. Establish a filing system based on 4-5 "zones."
2. If daily filing is not an option, create a place for papers to "land" until properly filed.
3. Create a binder system for each child's school papers or other documents you reference often.
4. Consider a label maker to keep file and folder labels neat and attractive. It can also be used for organization projects in other areas of the home.
5. Make it pretty with decor-oriented, but useful, containers. If the space looks nice, you'll be more motivated to keep it tidy.
6. No room for a full office? Tuck a great work space into a closet.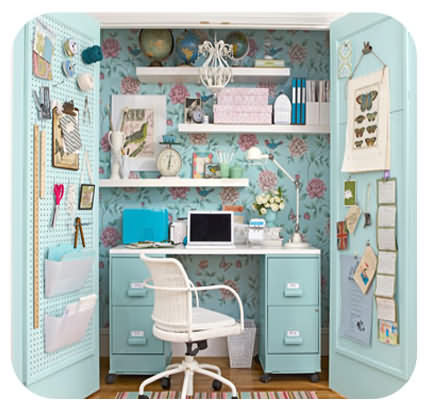 7. When possible, convert paper files to digital to reduce the need for file space. Just remember to back up your hard drive!
8. Magazine files are great for organizing periodicals, directories, etc. DIY to match your decor.
9. Have trouble letting go of old paper clutter? Use this decision-maker to help you purge the unnecessary stuff.
10. Throw in a little eye candy. Energize your work space with art that speaks to you.
Dana Hall McCain writes about marriage, parenting, faith and wellness. She is a mom of two, and has been married to a wonderful guy for over 18 years.