Let's do a little experiment. Think back over any five-year period of your childhood. Seven to 12, 11 to 16—any range you want. Now think about big moments that happened in those years. Did you try out for a team, have your first kiss, watch your parents divorce, see the Twin Towers fall, get picked on by a bully? So much happens in childhood that it can be scary to think about how we as parents need to equip our children for whatever life throws at them. Since we can't know what's coming next, we need to focus on the one thing we can do that covers every need. I believe that's giving them a growing relationship with God.
So how do we do that? After all, a personal relationship with God is just that—highly personal. It's nothing we can force or require. But like so many other parenting goals, we can influence our children greatly by modeling what we want them to embrace. Before you think you're not cut out for this job because you're less than perfect, remember: Your children don't need perfection. They just need authenticity, humility, and love. So what can you do today to influence your child in this department? Pay attention to these 5 keys to shaping the faith of a child.
1. You can shape the faith of a child through prayer.
Kids have an innocence that makes them naturals at prayer. But trusting that God hears every prayer might be a hard concept for them to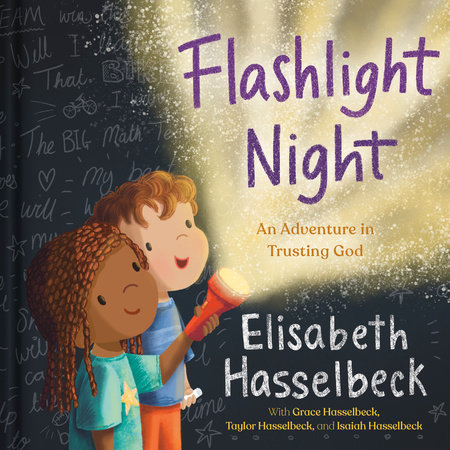 grasp. New York Times bestselling author and mom of three Elisabeth Hasselbeck to the rescue! Her book Flashlight Night: An Adventure in Trusting God is a great teaching tool and such a fun book to read with your kids. The young narrator tells the story of when his mom painted a wall with chalkboard paint and encouraged him to write his prayers on it in chalk. He wrote little prayers like learning to tie his shoes and big ones like healing for a friend who's sick.
At night, when the lights were off, he couldn't see the prayers any longer, so Mom gave him a flashlight to show that even though we can't see God and we might think the prayers are out of sight, God still sees them. We can trust that we are never overlooked by God. What a beautiful lesson for our children (and us!). You can buy the book here. Chalkboard paint not included!
2. You can shape the faith of a child through key conversations.
Children are full of questions and your answers are natural on-ramps to pointing out God's presence in the world around them. From the beauty of creation to the way God opened the doors of your career, he plays a role in every single story. It's just a matter of whether we remember to give him credit.
3. You can shape the faith of a child by living out your own faith.
There's an old saying about how some things are taught but many more things are "caught," or understood through observation. If your children see you making time to attend church, read your Bible, and pray, they'll likely see these things as a fundamental part of life. Aside from the ways you live out your faith in the home, there are opportunities all around you to put feet on your belief system in front of your kids. Encourage them to look for opportunities to show God's love to friends and family.
If you need help teaching your child how to pray, this free prayer printable is easy for kids to follow and looks great in a frame on the dresser.
4. You can shape the faith of a child by displaying godly characteristics as a parent.
All of the church attendance, prayer, and Bible study your child sees you do won't mean much if your words and attitudes in parenting don't match up. Your patience, kindness, and trustworthiness as a mom are the loudest testimonies of God's grace. They're also the most likely to be caught by your child.
5. You can shape the faith of a child by placing him or her in great environments.
Look for environments that are designed to engage your children and help them learn about the God who created them and loves them. If your church doesn't offer much for kids, check out other ministries in your area that do. Then be faithful and consistent in getting your children there to be influenced by the volunteers who know how to reach them. (If you're unsure about taking your kids to church, look at these 10 Reasons to Give Church a Try.)
How do you help your children grow in their faith?