I'll never forget my first memory of Christmas when I was around five years old. I was playing at a friend's house who lived behind us. There was a trail through some woods that connected our houses. As the sky became dark, it started to snow so I knew it was time to get home. By the time I got to my backyard, the ground was already covered. The lights from my house looked warm and inviting. Through the sliding glass door, I noticed a fire in the fireplace and my mom and dad putting lights on a Christmas tree. The scene couldn't have been more perfect.
That's what I think of when I think of the Christmas season, cozy scenes with family. But sometimes we end up running around, overwhelmed, and disorganized. Christmas can seem like it comes and goes so fast we wonder where it went. We want you to cherish every moment and help you make this season a special time with your loved ones. That's why we put together a collection of holiday calendars to help you make this the best Christmas ever. Look through them and find the Christmas calendar or calendars you need!
Calendar Love: 30 Day Holiday Challenge
Calendar Reason for the Season: Printable Advent Calendar for Kids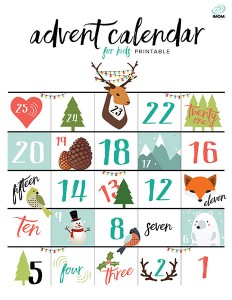 Calendar Prep: 7 Week Holiday Planner
Tell us! What is your favorite memory from the holidays?