---
Good Character for Kids: How to Teach Generosity to Your Kids
---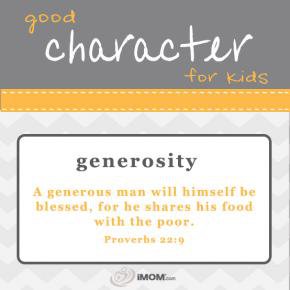 Most would agree that generosity is a character trait we want our children to possess. But in our "me, me, me" culture, it's harder than ever to raise kids who think of others and want to share what they've been blessed with.
Generosity is a character trait we'd all put on the most-wanted list for our kids.  In fact, it's one of the traits in our Good Character for Kids series. Training them to be adults who give cheerfully is best achieved by making generosity a lifestyle rather than a few random, singular acts. It's in the little things that you can do every day, not just the grand gestures, that come along every now and then. Here are some ideas for training generous kids:
1. A generous lunchbox.
Every now and then, let your child take an extra cookie or snack to share with a friend as a treat, or to help out a kid who forgot to bring his lunch.  You can plant the seed of sharing love with our printable lunchbox notes.
2. A generous closet.
When things get cluttered, have your children help clean out their closets and donate some gently-used clothing and toys to a local charity.  If you're the one with the clutter problem, try these 6 Solutions for Clutter Problems.
3. Generous across the generations.
If you have senior citizens in your neighborhood, opportunities to be generous abound. Let your older children go over a couple of times a month just to see if they can help with any chores. Simple things like changing light bulbs can be hard for the elderly, and they love the company of young people!
4. Civic generosity.
It's important for kids to realize that not all generosity involves money. Let tweens or teens volunteer at a local animal shelter or food pantry.
5. Mentoring generously.
Tweens and teens have a great opportunity to give back by mentoring younger kids. Let them help out at your church VBS, or just spend some time with a younger cousin or neighbor teaching them to pitch a baseball or braid hair in the newest style.
6. International generosity.
It's great for US kids to realize at an early age how blessed they are to enjoy so many everyday luxuries when kids in third-world nations have to survive on so little. Let them develop a personal connection to another child's needs by sponsoring someone through Compassion International or World Vision.
7. Generous at home.
Encourage your children to look for one way each week that they can help one of their siblings. It might be helping with a chore, with homework, etc.
© 2012 iMOM. All Rights Reserved. Family First, All Pro Dad, iMOM, and Family Minute with Mark Merrill are registered trademarks.
Comments
---
---
---