Years ago I was excited to hear Henry Cloud speak at an event. He is the co-author of one of my favorite self-help books, Boundaries. He spoke on many topics including some of the concepts from his book, The Law of Happiness. And since I want to be a happy mom, I soaked up every word.
There were many take-aways from that conference, but one of the biggest was that our idea of what makes people happy is backwards. Many people think that material changes will make people happier, but research shows us that a circumstantial change only creates a 10% temporary boost in happiness. After time fades, our happiness indicator resets to its normal state. Getting a new job, house, relocating, having a baby, or earning more money doesn't actually sustain our happiness.
Cloud lays out the research in his book and helps us understand what actually makes people happy. Here are 5 ways to be a happy mom.
1. Being a giver helps make moms happy.
Have you ever given to someone and felt more alive? It feels good to give to others and not be so self-centered. That's why the "pay it forward" concept is contagious.
Cloud shares that the same parts of the brain light up when you give as when you eat good food and have sex. There is a pleasure response when we give to others and step out of our egocentric world.
So look for an easy way to give and be happy today. Maybe you can buy a random person's coffee, help someone at the grocery store, or donate toys to foster kids.
2. Being connected to others helps make moms happy.
Everyone needs a friend. We were made to connect with others. Research shows that our bodies will produce 50% less stress hormones when going through a hard time if we have a companion going through it with us. Here are some great ways to be a good friend.
Reach out to a friend and plan a time to hang out and connect. Times like this can be refreshing and also act as great self-care.
3. Having goals helps make moms happy.
It feels good to look ahead, work towards something, and accomplish it. The process can help us grow and get us out of the mundane times of life.  Having a sense of purpose and fulfilling that purpose in life contributes to our happiness. We have a goal chart printable you can use to get started. It's tailored to kids, but it can work for you too. Start with just a couple of simple goals a week and move on from there.
4. Being thankful helps make moms happy.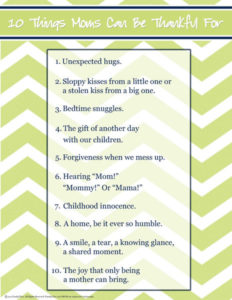 Most of us live with more than we need and will often not take a step back to have gratitude for all we have. It's important to look around and be thankful for even the simplest things that we take for granted. To get you thinking, here's 10 things for you to be thankful for.
Try to end your day making a list of 5 things you are thankful for from that day. Try to pick something different each day. By the end of the week you will have a long list to reflect on.
5. Having faith helps make moms happy.
This world is way more than what we can see. Growing in your faith gives you more meaning and hope as you go through the highs and lows that life brings. If you are new to faith or curious what it's all about read these 10 reasons to give church a try.
So can you think back and share moments when you've been a happy mom?
Teri Claassen is a Jesus follower, wife to Dan, mommy to one boy and one girl, a foster mom to kids in need, and a therapist at Renewed Horizon Counseling in Tampa, FL.