When you think about Independence Day, you probably picture fireworks, grilling out in the yard, maybe even going to your town's parade. The perfect addition to all these patriotic activities is 4th of July riddles! They're silly and simple and keep the kids entertained while teaching them about the United States and all we celebrate on July 4th.
As you're grilling hotdogs or cutting up the watermelon, your kids can cut up with these 4th of July riddles. They'll have the whole family scratching their heads and laughing. In fact, instead of waving the American flag, you might need to wave the white flag of surrender! Some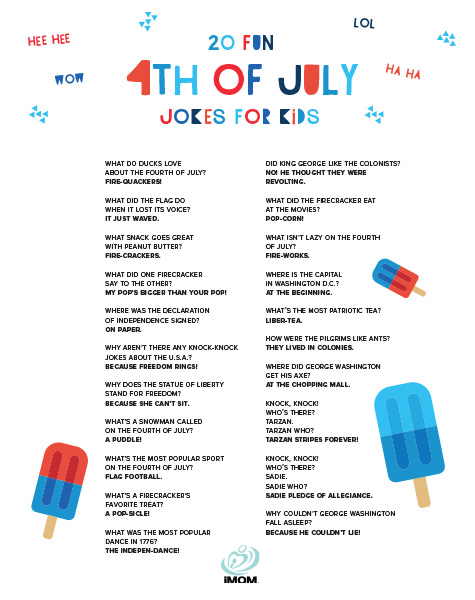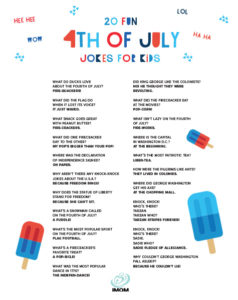 of them are all about the holiday while others celebrate a few of our 50 great states. Did your home state make the cut? We hope these riddles and printable 4th of July jokes make you proud to be part of your family and proud to be an American! Happy Independence Day!
Q: What's the capital in Washington?
A: W
Q: What would you say if everyone in the country sneezed at the same time?
A: God bless America!
Guy 1: What did Delaware?
Guy 2: I-daho
Guy 1: Fine. Al-aska this lady. Ma'am, what did Delaware?
Woman 1: She wore her New Jersey!
Q: What state is famous for tiny beverages?
A: Mini-soda
Q: What is the smartest state?
A: Alabama—it has four A's and one B!
Q: What do you call a hippie's wife?
A: Mississippi
Q: Where was the Declaration of Independence signed?
A: At the bottom
Q: What cat said, "The British are coming!"
A: Paw Revere
Q: Do they have a 4th of July in Australia?
A: Yep. It's right after the 3rd and before the 5th.
Q: What did King George think of the American colonists?
A: He thought they were revolting.
Q: Why can't a woman living in the U.S. be buried in Canada?
A: Because she's still alive!
Q: Why did the British cross the Atlantic Ocean?
A: To get to the other tide
Q: What song do animals in the jungle listen to on July 4th?
A: Tarzan Stripes Forever
Q: An American living in England came home to the United States on the 4th of July, celebrated for three full days, and returned to England on the 4th of July. How is this possible?
A: He traveled on a ship called The 4th of July.
Q: What was Thomas Jefferson's favorite dessert?
A: Monti-jello
Now it's your turn! Tell us your favorite 4th of July riddle or joke! And if you're in the mood for more great riddles, click here!