Kids big and small love searching for treasure. There's something about following the clues, one by one, anticipation building as they get closer to "X." You might not have the time or desire to dig a hole in the yard, but that doesn't mean your kids can't go on an adventure right now. An iMOM scavenger hunt is fun, a little bit silly, and no shovel is required! 
We have a scavenger hunt for each of the big holidays, which is perfect for keeping the kids occupied so you can get some of the to-do list done. And our any-day scavenger hunts are handy for sleepovers or when rain sidelines your outdoor plans. If you don't have a prize for the end of the hunt, don't stress. A piece of candy or a love note will leave your hunter beaming! And don't tell the kids, but these scavenger hunts will help them work on their reading and problem-solving skills. Talk about buried treasure! Mom win!
Dollar Store Scavenger Hunt
Looking for a fun rainy day activity? Need to get out of the house and let the kids stretch their legs and exercise their brains? Try our Dollar Store Scavenger Hunt! Print the list, pile the kids in the car, and solve the riddles to grab items from the shelves. There are plenty of jobs for everyone!
Water Scavenger Hunt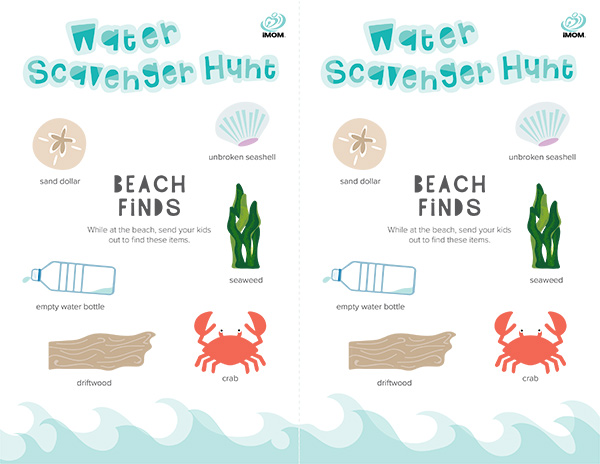 Need a fun activity on your next vacation? Send your kids exploring with our Water Scavenger Hunt. Whether you're at the beach or the lake, send your kids on an adventure to find these items. Print out whichever page of the scavenger hunt that fits your trip and soak up the memories today.
Treasure Hunt Clues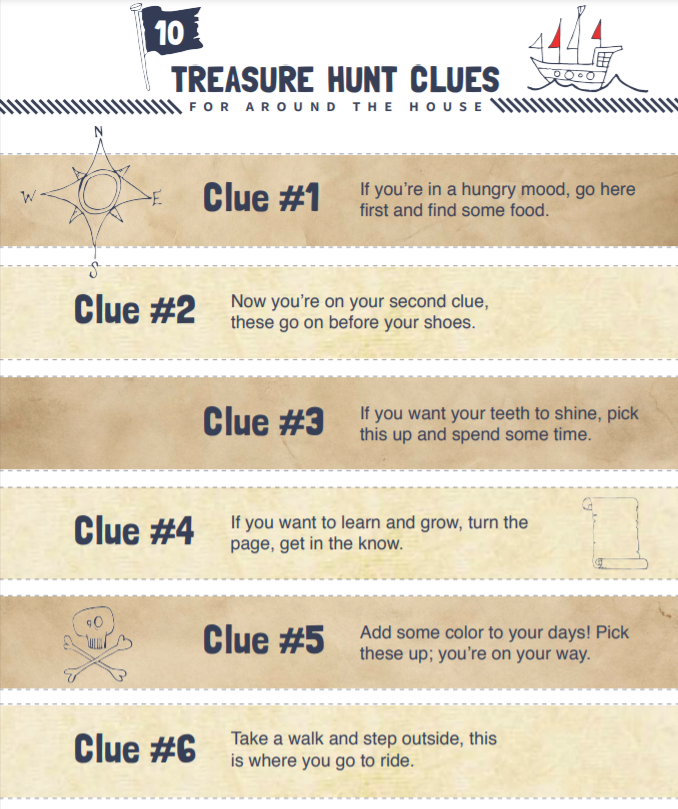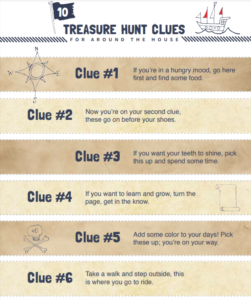 The next time your kids come up to you and whine, "I'm bored!" We have two words for you – Treasure Hunt! Download our new Treasure Hunt Clues printable.
Selfie Scavenger Hunt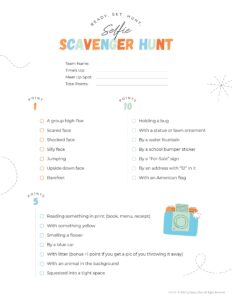 Update your party with a 21st-century take on a classic: a selfie scavenger hunt. All you need is a phone (or dust off an old digital camera if you have one!) and our free printable. Print your list, pick a time limit, and go hunting. 
Nature Scavenger Hunt

Nature is fascinating but easily overlooked. Our Nature Scavenger Hunt is a fun way to teach your child about how to perceive life. You can discover it in your backyard, a park, a pond, or a beach.
Superstore Scavenger Hunt
This Superstore Scavenger Hunt is a blast! It's great for a free family night out or a tween's birthday get-together with a couple of friends. Grab the family and head to the nearest superstore. It's fun, free and a total memory maker, so don't forget the camera.
Colorful Treasure Hunt

I spy a colorful treasure hunt for kids! Each treasure hunt clue in our newest printable has something to do with colors. And, believe me, little kids and big kids will love seeking, finding, and figuring out these clever clues.
Valentine's Day Scavenger Hunt
Even though Valentine's Day is meant for couples, kids absolutely love it! Many of us came home from school with a brown bag full of cards from our classmates. But did you ever come home to a Valentine's Day Scavenger Hunt? Send your little loves on a hunt for whatever prize you have in mind.
Spring Treasure Hunt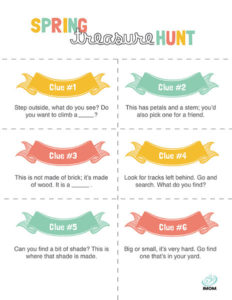 When spring has sprung or when the weather feels like it's spring, send your kids outside for this Spring Treasure Hunt! After being stuck inside for the winter, a fun outdoor activity will breathe life back into your family's spirit!
Easter Story Hunt
Children love to look for Easter eggs, but how about taking it up a notch with an Easter scavenger hunt? In this egg-citing game, your kids can hunt for eggs over and over again without ever being at risk for a cavity from too much candy. And best of all, they will actually be hunting for the best treasure of all—the story of Easter.
USA Scavenger Hunt
History is fascinating and can be a lot of fun. Download iMOM's USA Scavenger Hunt game and watch how easily your kids can learn about our country.
Back-to-School Treasure Hunt
Make back-to-school time a fun time for your children with our Back to School Treasure Hunt for kids. As they search for clues they'll find lots of surprises, but no homework — we promise! When a clue calls for something like crayons, or a book, you can get new ones to surprise your children, or just use things you have around the house.
Halloween Scavenger Hunt
Halloween is all about family and treats, right? But Mom always has a trick up her sleeve to take the fun up a notch. iMOM's Halloween Scavenger Hunt is a not-so-spooky but perfect addition to your trick-or-treat tradition. 
Thanksgiving Scavenger Hunt
This is the perfect Thanksgiving side dish your children are sure to love—a Thanksgiving Scavenger Hunt for kids! Not only will they love searching for these indoor clues, they'll also learn some fun facts and interesting tidbits about the first Thanksgiving!
Christmas Scavenger Hunt
The Christmas season is a wonderful time of year for many reasons—but sometimes the whole Christmas thing can feel overwhelming and not so fun. So before the stress of the season makes you a mean elf, sprinkle some levity into it with our Christmas Scavenger Hunt.
Which one is your kid's favorite? What other kinds of scavenger hunts would you like to see?