60 Days of Summer Fun is your simple solution to, "Mom, I'm bored!" With 60 easy ideas, games, and printables, fun is at your fingertips. By the end of the summer, your kids are going to think you're the most creative mom on the block! Before you get overwhelmed, no, you don't have to do something every day in order for summer to be a win by back-to-school time. You can skip around for the summer fun you feel like each day.
There are activities for days you feel like getting some sun or playing in the water. We've got creative ways to start conversations and foster learning. And of course, because some of the best plans get canceled by mother nature, there are some great indoor activities, too. We've even thrown in ideas for road trips! We promise that by the end of summer, your family will have made some great memories and grown in love for one another!
Summer Bucket List
What's on your family's summer bucket list? Picnicking under the stars? Having a water balloon fight? Making homemade ice cream? To get started, gather everyone together and use our Summer Bucket List printable. Make one for the entire family or let each of your children fill in their own.
The Schedule that Saved Our Summer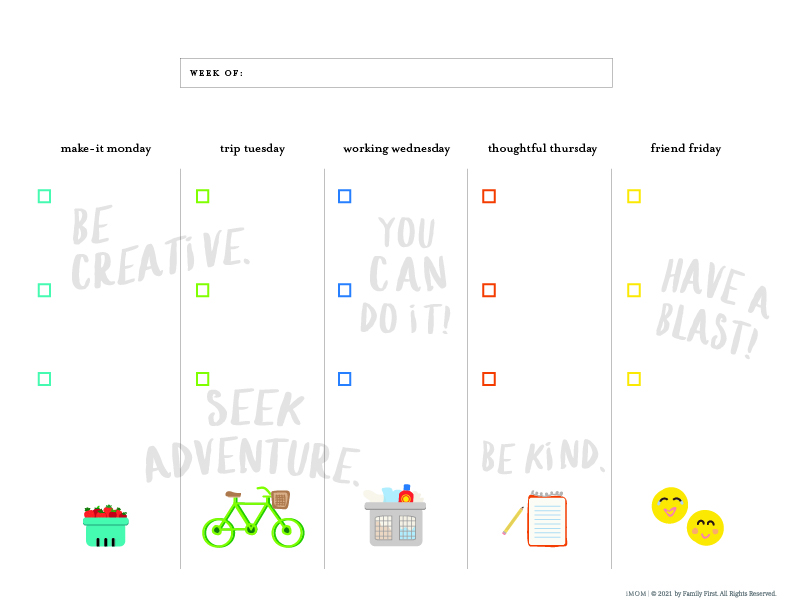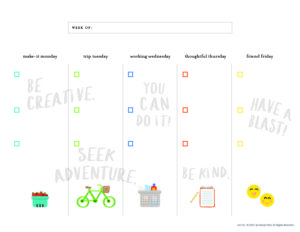 We love summer vacation! The possibilities are endless, and our bucket lists are full. Unfortunately, operating without a summer schedule often leads to either overcommitting ourselves or spending so much time relaxing that we miss out on great opportunities or adventures.
Road Trip Games for Summer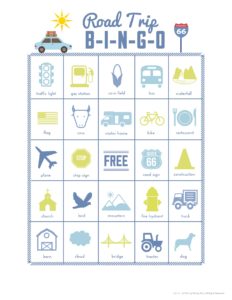 Before you let your kids plug into their electronics on your next road trip, think about going old school. We have three really cute printables for three awesome road trip games – Road Trip I Spy, Road Trip Bingo, and the Road Trip License Plate Game.
Water Scavenger Hunt
Restless kids are never fun. Don't let their energy go to waste. Instead, send them exploring. Whether you're at the beach or the lake, send your kids on an adventure to find these items.
Exploring Nature Talk
Nature is fascinating but easily overlooked. Exploring nature hands-on is the best way to experience it! You can discover it in your backyard, a park, a pond, or a beach.
Indoor Camping Ideas for Kids
What is your favorite part about camping? Head to the great indoors for an easy summer camp out—we mean, camp in!
5 Water Games!
Summers are meant to be spent playing in and with water. This summer, cool off and play hard with these 5 water games for your kids.
10 Throwback Family Movies
Here are 10 fun, vintage family movies you might have missed.
5 Ways to Have Your Own Family Restaurant
The allure of eating out is big for kids. But, eating as a family at home can be fun, healthier, and less expensive too. Here are 5 ways to have your own family restaurant.
My Summer Stories
Looking for a fun craft for your child to do this summer? Why not have them create a scrapbook that will help them to remember all of the fun things that they did! iMOM's new My Summer Stories printable is an easy and fun way for your kids to create lasting memories.
Superstore Scavenger Hunt
Are you looking for something great to do with your family when the weather is bad? The Superstore Scavenger Hunt is a blast! Grab the family and head to the nearest superstore.
Watermelon Fun for Kids
Sure they're delicious to eat, but they're also ripe for fun. Try these sweet ideas for watermelon games and more!
Summer Talk
Spark some conversation this summer with our Summer Talk family conversation starters.
Dreams Talk
A very wise man once said that a dream fulfilled is a tree of life. What do your children dream about doing, seeing, being? Use our Dreams Talk conversation starters to find out.
The Day You Were Born Talk
Kids love to hear stories about when they were born. So start by sharing the twelve details below about how their life began.
Glowing Words Jar Cards
Most of our kids could use some encouragement to be kinder to each other. A great place to start that lesson is with our Glowing Words Jar Cards printable. This printable will help your children see that being nice to each other can be fun.
Random Acts of Kindness
Random acts of kindness are a great way to show love in your family. These random acts of kindness are perfect for kids and grown-ups.
Reward Jar Coupons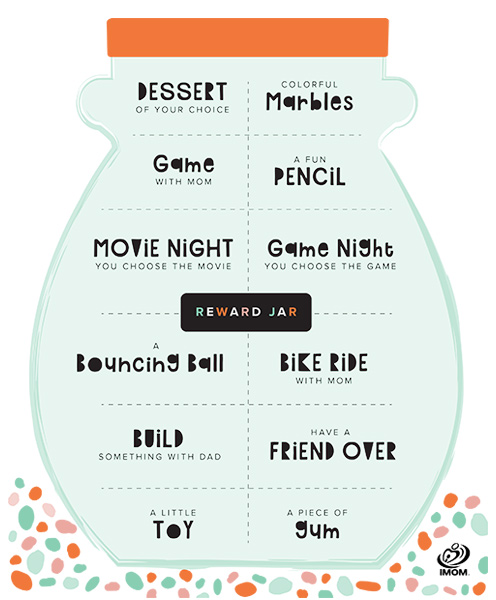 Use our Reward Jar Coupons when you want to recognize your kids for a job well done, for doing more than expected, or for just being themselves. Just print them, cut them out, put them in a jar, and let your kids reach in to choose their coupon.
Knock Knock Jokes
Use iMOM's Knock-Knock Jokes printable to add some laughs to your conversation.
How to Make Paint for Kids
Here is how to make paint for kids that your creative children are sure to enjoy. Not only will your kiddos love to use the paint, they can even help make it!
Sweet Talk Game
The Sweet Talk Game helps you grow closer as a family by listening and sharing.
15 Fun Backyard Games
We know your kids have probably played freeze tag, but what about dragon tag? Amoeba tag or clothes pin tag? Well, tag away this weekend with 15 backyard games.
3 for 1 Summer Ideas
3 for 1 summer fun is when you pack 3 special activities (they can be little activities) into 1 day. Here are some great 3 for 1 summer fun ideas to get you started!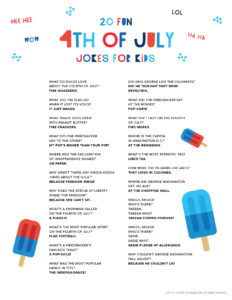 4th of July Jokes for Kids
Independence Day is all about parades, fireworks, and red, white, and blue. But it's also about spending time with your family and celebrating with laughter and smiles. So here are some 4th of July jokes for kids that will get everyone at your patriotic backyard cookout chuckling.
Founding Father Cards
Who knew that learning about the founding fathers could be so fun?! First, print out our seven founding fathers cards. Next, hide them around your house for a game of hide and seek with your children as the finders.
Independence Trivia Game
What were the major events that led up to the signing of The Declaration of Independence?  This trivia challenge will give you the answers – in  a fun way!
USA Scavenger Hunt Game
History is fascinating and can be a lot of fun. Play our USA Scavenger Hunt Game and watch how easily your kids can learn about our country.
4th of July Trivia Game
Do your kids know the true meaning of July fourth? If not, this trivia game will help unify your family by increasing everyone's knowledge about our country's freedom. Test your kids' knowledge today!
Declaration of Gratefulness
As the founding fathers gathered in the Continental Congress long ago, gather your family. Discuss and list the freedoms, people, opportunities for which your family is grateful. Use the Declaration of Gratefulness to form your list.
20 Ideas for a Family Fun Night
Do you ever find yourself running out of ideas for fun family activities? Here is 20 ideas for your future family nights.
Staycation Ideas for Your Summer
Thankfully, with a little creativity – and help from iMOM! – I can come up with fun things we can do without leaving home. See what you think of these 10 super staycation ideas.
How to Create a Dream Board for Kids
What is your child passionate about? What are your child's hopes and dreams? Making a dream board can be a fun and visual way for your child to express their dreams and inspire them to pursue them. All you need is some construction paper, an old magazine or two, and some glue.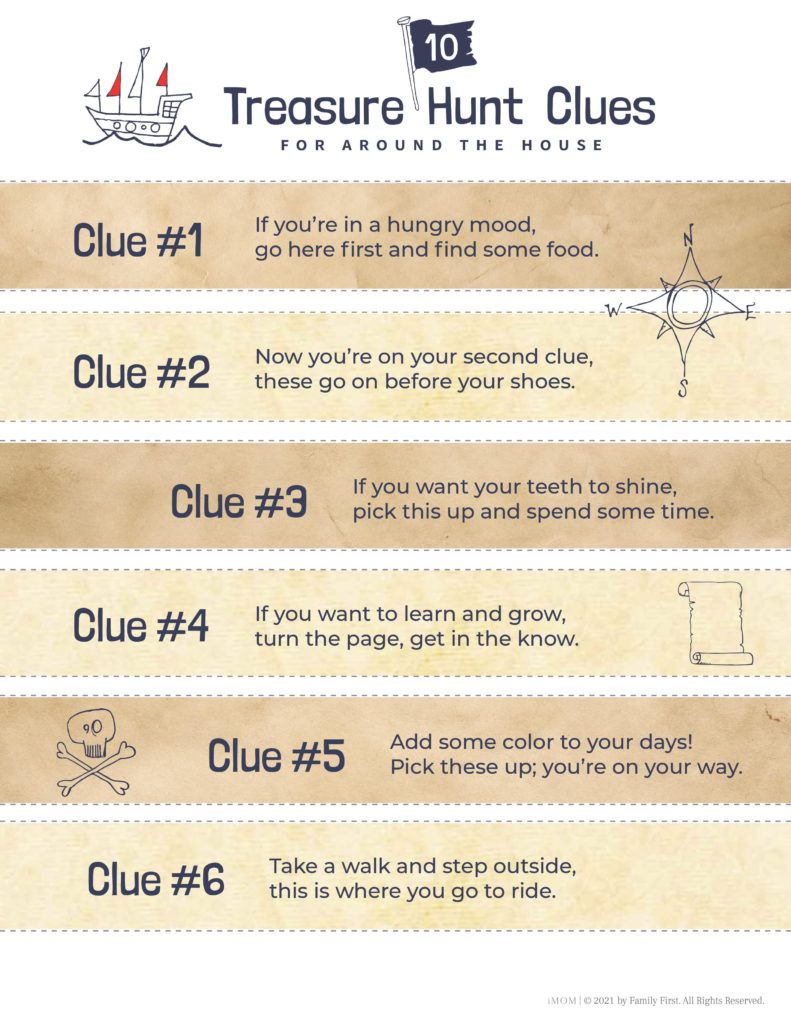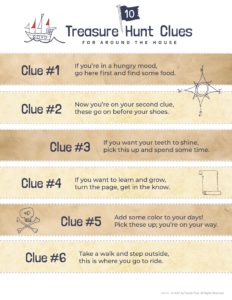 Treasure Hunt Clues
The next time your kids come up to you and whine, "I'm bored!" We have two words for you – Treasure Hunt or Scavenger Hunt. Download our new Treasure Hunt Clues printable.
5 Fun Summer Activities for Under $10
If your kids will hang out at home most of the summer, with or without you, it's nice to have a few go-to ideas. Here are 5 ways to have summer fun under $10!
Playing Talk
What is your child's favorite board game? What would they never get tired of playing?  You can find out the answers to those questions and more using our fun Playing Talk Family Conversation Starters.
Kid Talk
Want to know what your kids are really thinking? Use iMOM's Kid Talk 1.0 Family Conversation Starters. Need even more questions? Check out iMOM's Kid Talk 2.0 Family Conversation Starters.
A Fun Way to Bond With Your Kids at Bedtime
Pajamas are on, teeth are brushed, and nighttime prayers, recited. But there's still time left before lights out. How your children spend bedtime can have an impact—a positive one, if they spend it with you.
10 Good Riddles for Family Fun
What starts with a Q, ends with an A, and has lots of "um's" in the middle? A riddle! Here are 10 good riddles to keep your kids laughing and create tons of family fun.
Family Friendly Pranks
Want to get your kids excited and give them something fun to think about during their long summer days? Get them in on the family fun with these pranks.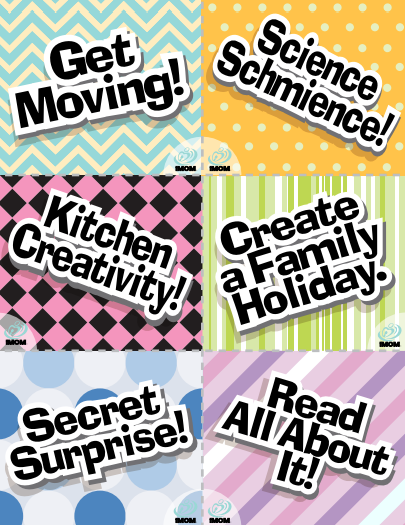 Family Fun Time Cards
Family time can be fun time with our new family fun time cards!  Print them out, put them in a bowl, and let your children draw a card to start the fun.
How To Create Your Own Family Holiday
The days between the end of school and the 4th of July are filled with heat, humidity, and cries of boredom. Why not break that up with a new family holiday?
Kids Plant Labels
Grow some gardening excitement at your house this summer using our printable plant labels for kids.  Glue them to a plant stake, or print them on a label and place them on a pot.
50 Things to Do This Summer
Summer is awesome… until you run out of things to do. We have 50 ideas for things to do this summer that will keep a smile on your kids' faces as well as your own.
Nature Scavenger Hunt
Theme Lunch Ideas
When you're home all day with the kids, the days can become dull and the kids can become restless. Meal time is a great mid-day reset where everyone can come together, get re-energized, and even have an adventure!
Mom Time Coupons
Give your kids what they really want—more time with you!  Surprise your children with iMOM's Mom Time Coupons for hours of memory-making fun.
Kid Coupons
Give your child Kid Coupons to ensure you find time to spend together.  Then wait for opportunities as you play, create, and exercise to have conversations that count.
Family Tree Printable
Do you know you have a family tree? Family trees are interesting and fun and always growing. Once you make the tree, you will be able to remember how everyone is related. So what does your family tree look like?
3 Biggest Dreams List
How big are your children's dreams? Have them write down their 3 biggest dreams to find out.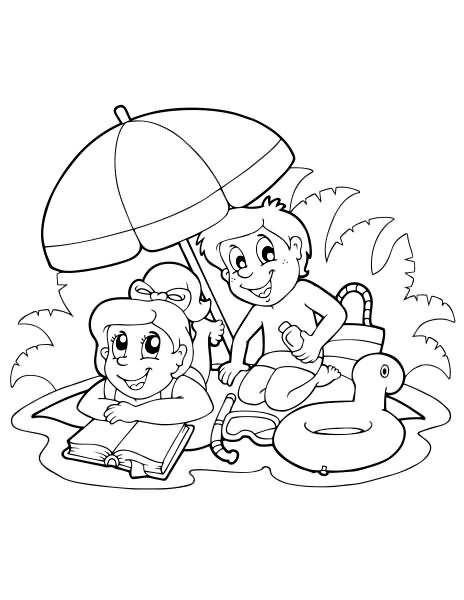 Summer Coloring Pages
Looking for a quick and free activity for your kids this summer? Just print our summer coloring pages for kids!
Happy Words Coloring Page
Just by filling your mind with the positive you can change your outlook.  So have your children use this coloring page to write their five happiest words and draw a picture to go with each.
Ask Your Child
Do you find it difficult to find time to talk, really talk, with your child? What if you spent just a couple of minutes every morning thinking about how to parent well and a couple of minutes every night talking to your child? 
Secret Pal Notes
Kids love secrets. So use that to your advantage to encourage them to be nicer to their siblings with our Secret Pal Notes. Let them fill in the blanks and then secretly leave the notes for their brother or sister to find.
10 Ways to Savor Summer
Does summer feel stressful to you and you just don't know how to slow down? iMOM has 10 Ways to Savor Summer – and it's not a to-do list, it's a "ta-da" list! These ideas will give you the chance to slow down with your kids and enjoy the summer.
Out-of-the-Box Summer Fun Activities for Kids
Summer is a great time to tackle goals, learn a new skill, or pursue a favorite interest. Use these summer fun activities to get your wheels spinning on how to fill those sunny days.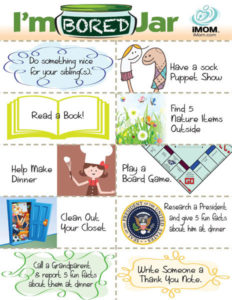 I'm Bored Jar
When the going gets tough, the tough get going. And when the days get monotonous, Mom gets creative! That's why I love our I'm Bored Jar ideas. They're the perfect response when your children say, "I'm bored!"
8 Great Ways to Bond with Your Child
Try one of our 8 great ways to bond with your child to slow down and just be together.
10 Ideas for Outdoor Fun
These 10 ideas for outdoor fun are great for kids of all ages. They're also perfect for getting your children thinking about other activities they'd like to do this summer. So post the list and add to it as the warm weather inspires even more outdoor activities for kids.
Back to School Party Ideas for a Family Celebration
It's time to throw a back to school party for your kids, and we have back to school party ideas to make your celebration a blast! We're not talking a big bash here, just a family gathering where you can launch your children into the new school year with a lot of love and support.